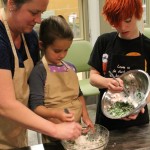 Spinach Feta Scones
2016-05-11 20:18:06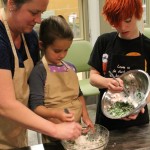 A tasty treat that the kids can make themselves for a snack or in their school lunch. Spinach is an excellent source of vitamin A which keeps your eyes, skin, and immune system healthy!
Ingredients
1/3 cup vegetable oil
5 green onions, chopped
2 garlic cloves minced
2 eggs
1/2 cup milk
2 cups whole wheat flour
2 teaspoons sugar
1 tablespoon baking powder
1 teaspoon dry crumbled oregano/Italian seasoning
salt and pepper to taste
1 (10 ounce) package frozen chopped spinach, thawed and well drained
1 cup feta cheese
Instructions
Preheat oven to 375°F
Grease muffin tins.
Beat eggs until foamy; blend in remaining oil, milk and sautéed onions.
Add flour, sugar, baking powder, oregano, salt and garlic powder.
Beat until smooth.
Stir in spinach, green onions and feta cheese.
Spoon into 12 greased muffin tins.
Bake 20 to 25 minutes.
Notes
Calories (kcal) 191.3
Fat (g) 10.4
Saturated Fat (g) 3.1
Trans Fat (g) 0.0
Cholesterol (mg) 39.9
Sodium (mg) 346.8
Potassium (mg) 206.9
Carbohydrate (g) 17.9
Fibre (g) 2.8
Sugar (g) 2.4
Protein (g) 7.1
Vitamin A (RAE) 180.6
Vitamin C (mg) 3.4
Calcium (mg) 157.9
Iron (mg) 1.6
A versatile recipe to substitute spinach and feta with other ingredients you have on hand. Try fruit or veggies!
http://poppyinnovations.ca/