A Permaculture Approach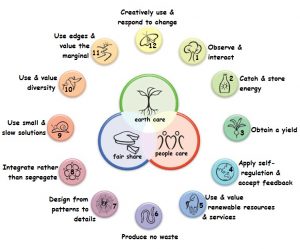 Permaculture provides strategies for living to meet our human needs while enhancing the ecosystem. This can be applied to design of our yards, food production, catching and storing energy and using renewable resources as just some examples. The graphic above shows the full realm of applications for permaculture.
We were thrilled to have Permaculture Guild Calgary collaborate with Poppy Innovations in our 2018 Grow 'n Learn workshop to share tips for applying permaculture to our gardening enthusiasts in Calgary . This topics covered were as follows:
Self-seeding annuals
Perennial plants for our climate
Native bee friendly plants
Starting plants from seed
Beginner Designer Tips
The practical advice was so plentiful, that on the request of the participants, we are sharing their presentation for you. Here is the presentation for you to Poppy Innovations Permaculture Slides
For more information, visit them at www.permaculturecalgary.org and check their FaceBook and Twitter to find out about their other events and initiatives.