Bison
Tagine: refers to a Moroccan clay or ceramic dish, it also can mean a rich stew with meat dish with fruit and vegetables that are slow cooked. This dish originated from South Africa it can be made with game meats, chicken, beef, or pork.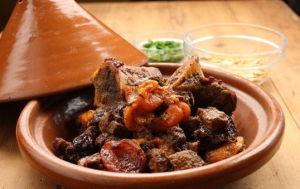 Bison: Bison is similar to beef but has a slightly sweeter rich taste. It pairs really well with fruits such as currents, cranberries, or wild berries. Bison tends to be much leaner, slightly darker in colour. Bison is packed with nutrients bison and typically lower in fat, higher in iron and protein. Because bison is lower in fat it needs to be cooked carefully to not dry it out or make it tough. Many people who have tried bison and didn't like it, it is usually due to the fact it wasn't cooked properly so they found it too tough.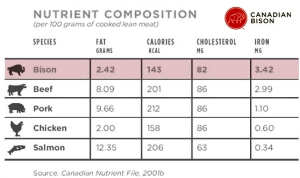 Bison Tagine
Serves 4
Ingredients
1½ tbsp grated ginger
1 tbsp garlic or onion powder
1 tbsp cumin
2 tsp ground cinnamon
2 ½ lbs bison chuck, cut into cubes
2 red onions diced
3 tbsp vegetable oil
3 garlic cloves minced
2 tbsp tomato paste
2 cups carrots chopped
4 celery stalks chopped
¼ cup dried apricots cut in half
¼ cup silvered almonds
1 liter beef stock
1 tbsp honey
1 bay leaf
Salt and pepper to taste
2 tbsp parsley chopped optional garnish
Directions:
Heat a medium sized saucepan with vegetable oil.
In a bowl mix salt, black pepper, paprika, ginger, garlic or onion powder, turmeric, and cinnamon and rub into the meat.
Once pan is hot carefully add meat, onion and sear the meat.
Once meat is rich brown colour add garlic and deglaze pan with beef stock.
Add all remaining ingredients except chopped parsley and let simmer for approximately 1-2 hours until meat is tender stirring occasionally.
Serve with brown rice or whole-wheat couscous and garnish with chopped parsley.
Tip:
This dish freezes well it can be frozen up to 2 months.
Try changing up the dried fruit try dates, dried mangos, dried cranberries, or raisins.