Building Healthy Families, A Celebration to Moms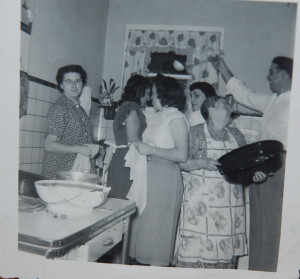 Moms have played a key role for generations to make sure families were fed, active and otherwise healthy.  They took care of us when we were sick, made sure we ate our veggies, and taught us to cook so when we grew up we knew how to look after ourselves and our own families.
This article is not to say that fathers, grandparents, and other friends and relatives have not and do not play an important role as well.  Nowadays in particular, this role is divided amongst parents and extended family and even borne solely by single parents.  Today is Mother's Day in Canada though so let's celebrate the love, nurturing and teachings that many of our moms gave us.
As a mother of four kids and a single mom for several years, setting kids up for success has always been important to me.  That is known as code for saying to my kids, "I know you don't appreciate this now but you will when you are older" which is often heard by me when I have the kids working with me in the garden.  As my oldest son is getting ready to graduate high school and move away to the other side of the country to go to University, I am proud to say he knows what real food is (those bags of baby carrots are not really grown like that), he knows how to cook, he eats healthy and knows what healthy choices are (the Canada food guide was fixed to our fridge for a lot of years to remind my kids what needed to go in their school lunch), he knows to stay physically active and he understands what a difference eating together as a family makes not only on your physical health but to keep healthy relationships.  We have shared many laughs and many of our favorite family moments have been in the kitchen together.
While I cursed my own mom as a teenager for making me cook meals for the family, plant and pick the vegetable garden; sit at the table until everyone was done dinner, I learned the value that these things have on building a healthy family.  Thanks Mom!
To all the moms and other adults out there that are reading this and trying to instill healthy values in your own families, great job – it is no small feat.  It is easy to succumb to the world of prepackaged or processed foods and eating on the run.  Your time and efforts are a worthy investment in a healthier future.