Carving the Perfect Pumpkin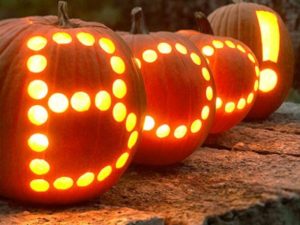 As you turn the page on the calendar, we are just that much closer to celebrating the glory of Autumn. We believe you can never be too old to enjoy carving of pumpkins so here's
our tips to carving the perfect pumpkin.
1. When purchasing your pumpkin take a look at the rind. A lighter color means softer flesh that's easier to carve in detail.
2. Any bruises, cuts or soft spots can mean the pumpkin is already on the decline and won't last much longer.
3. Pick up the pumpkin, it should feel somewhat light, meaning it's nice and hollow inside.
4. Now that you've got your pumpkin, select your tools for carving. A boning knife – sharp,
thin and pointed – is a good choice for carving small details. Use a large carving knife to
cut out the lid. If you are putting a real candle inside your jack-o-lantern, make a couple of
air holes in the back of the pumpkin.
5. What is Halloween without a little goo! Reach inside the pumpkin and pull out the stringy
guts and slimy seeds. Don't just throw those seeds. Rinse the seeds and toast them on a
baking sheet then sprinkled with seasonings. Delicious!
6. Use a large spoon and scrape the inside of the pumpkin completely to expose the lightcolored
flesh, which reflects more light.
7. If you're attempting a detailed design, print or draw your design on paper first. Then
lightly trace the design through the paper or use pin pricks to outline the design onto the
pumpkin. Use the tip of your knife to carve out the design.
8. Avoid burning the inside of your pumpkin by placing your tea light candle inside a glass jar.
9. If you are keeping your jack-o-lantern indoors sprinkle the insides with cinnamon, nutmeg and cloves and it will infuse those fall scents in the room.
Happy Halloween!