Chia Fruit Smoothie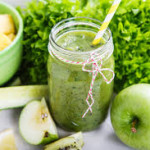 Print Recipe
Chia Fruit Smoothie
A classic smoothie with thick and creamy texture. Chia seeds have a very mild flavour so adding a spoonful to your food is a great way to get many health benefits like an energy boost and improved digestion from chia.
Ingredients
2

tsp

soaked chia

soak for 10-15 min in water

1

cup

fruit

2

cups

almond milk

Ice

optional - if using frozen fruit, ice is not needed
Instructions
Place all the ingredients into blender and blend until desired consistency. If too thick, add water to thin.

Optional: soak your seeds in the milk instead of water

Be careful about not adding to many seeds to your blender because chia, when soaked in water, becomes gelatinous and will make a very very thick smoothie.
Notes
Try substituting coconut milk for almond milk for a different flavour. When eaten raw, chia seeds are excellent sources of omega 3 and dietary fiber.