DIY Newspaper Plant Pots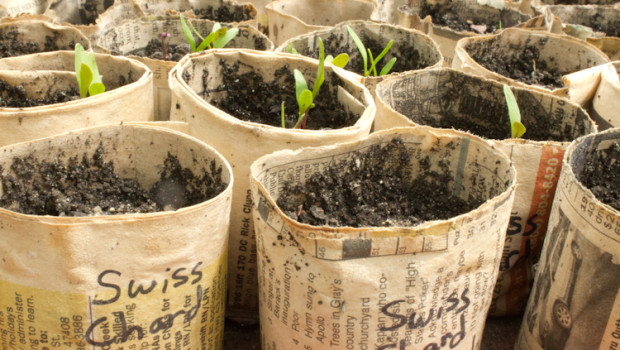 It is magical watching our own seeds sprout and grow then be able to use their fruits as ingredients in your meals. With these biodegradable pots made from newspaper, you can go from seed to seedling and straight to planting in the garden with no transplanting at all!
Here's what you need to make your newspaper pots:
* newspaper
* scissors
* glass or cup for a mould – if possible this should have a small concave in the base
* potting mix
* seeds of your choice
* water
* twine
* low-cut cardboard box or styrofoam box

Fold a length of newspaper in half.
Roll it around the cup at least twice, leaving about 3-5cm to tuck into the base.
Tuck paper up into concave base tightly. Tie twine around the outside of the cup.
Slip the paper off the cup. Make as many as you need.
Fill each pot with potting mix. Get the kids to help!
Sow seed into the potting mix. Repeat until finished.
Store seedling pots in a low-cut cardboard box or styrofoam box in direct sunlight. Water regularly and keep an eye on them. Depending on the seeds potted, you should see some sprouting happening within the week.
Once your seeds have become seedlings, plant the whole thing – newspaper pot and all – into the ground. The pot will break down and you will have a gorgeous garden full of bloom, herbs or veggies in no time.