Farro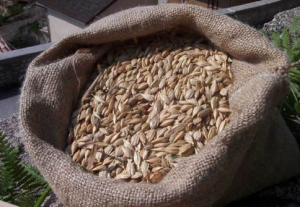 Farro is a staple grain in the Mediterranean diet, it dates back to ancient Roman times where it was thought to be "The mother of all wheat." It has been grown for generations by Tuscan farmers and is found in many of their traditional dishes. It can also be referred to as "two grain spelt" or "starch wheat". Farro when cooked looks like a plump version of barley.
Farro is an excellent source of fibre, iron and protein. It can be used as a substitute for rice in dishes. Farros has a nutty aroma, slightly sweet taste and has mildly chewy texture.
Click here to try farro for yourself in our Fall Harvest Farro Salad recipe!
Cooking Farro
Stovetop method:
1 cup of farro and 2 1/2 cups of water or stock bring to a boil. Once it begins to boil reduce the heat to a simmer and cover for 20-30 minutes or until tender. Drain off any excess water.
Rice Cooker Method:
1 cup farro and 3 cups water or stock set if on brown rice setting it should take ~45minutes to cook.
Pressure Cooker Method:
1 cup farro and 3 cups water cook for ~10-15 minutes.