Fight Against Childhood Obesity
By: Kara MacInnes ,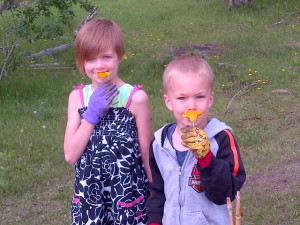 REAP Calgary
"Obesity rates in Canada are the highest they've ever been. And in spite of nation-wide awareness campaigns, 30% of kids are still obese or overweight." -Sharon McCormick, Founder of Poppy Innovations How do we change this? Poppy Innovations, an organization that uses gardening and interactive food-related activities to help change the way we eat, has an idea: Get kids connected with whole, natural foods. Like those grown in the garden.
This is the idea behind Poppy Innovations' children's workshop at REAP's upcoming Food for Thought event. Kids will taste a variety of greens and vegetables then choose the ones they like the best and plant seeds to "grow their own salad". Kids will take home their very own container garden to nurture and care for.
"This fun and interactive workshop gets kids involved in growing and preparing their own food. Research shows that kids are more inclined to eat food that they've had a hand in growing and cooking," explains Sharon.
TAKE ACTION:
1. Sign your kids up for the "grow your own salad" workshop with Poppy Innovations at REAP's 4th annual Food for Thought event on September 22.  Click here for details and tickets.
2. Don't have the space to grow food in your yard, or don't have a yard at all? Consider joining Poppy Innovations' community garden in De Winton. Contact Poppy Innovations for more info. Or click here to find a community garden in your neighbourhood.
3. Back to work after a long summer vacation? Have new staff members joined the team? Perhaps your office could use some team building this fall. Contact Poppy Innovations to arrange a food-based activity that's fun, meaningful and a rewarding team building experience for all.
4. Click here to learn about the full suite of services offered by Poppy Innovations.
5. Vote now for Poppy Innovations as your favourite local business in REAP's 2013 Be Local Awards. http://goo.gl/OECMdd  Voting closes October 31, 2013, vote daily!
6. Should gardening to learn where our food comes from be part of the school curriculum? What do you think? Leave a comment below and check out Poppy Innovations own blog post on the matter.