Halloween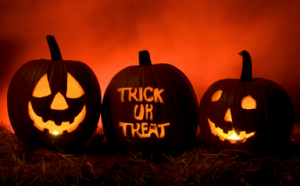 It's hard to believe in just a few days Halloween will be here! The days after Halloween tend to be dreaded days for parents and teachers who are seen as the food police! Many homes turn into temporary candy lands. Did you know the average child arrives home from trick or treating with a pillow case of candy weighing approximately 5 lbs! That's equates to 8 cups of sugar, 400 teaspoons, or 40 cans of pop and over 10,000 calories.
Tips for your ghosts and goblins:
1. Avoid purchasing halloween candy until a couple days before. Most of us are guilty of buying candy early and then having a sweet tooth craving and diving into the treats early and having to re-buy more candy for Halloween. Buying it closer halloween helps to breaks that temptation.
2. Don't stock up on Halloween treats you love and you'll be less tempted to eat it.
3. Any leftover treats near the end of the night start giving trick or treaters more so there are no leftovers.
4. Make sure your children have a full nutritious meal before heading out trick or treating.
5. Limit the number of pieces of candy you and/or your children have each day. Avoid depriving you or your children from having a couple treats this will prevent sneaking of food or breaking your allotted candy for the day.
6. When your children come home from trick or treating let your children make a pile of likes and dislikes donate the pile of dislikes to local food banks or community centres.
7. After a couple weeks if the candy is still around, throw it out.
8. Check out our Poppy Innovations' Facebook page for ideas for healthy halloween treats!