Homemade Applesauce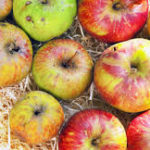 Print Recipe
Homemade Applesauce
Applesauce is an excellent dish for using apples that are bruised or marked as the bad spots can be cut out. It is easy to make and freezes well so don't let your apples go to waste. Apples vary in their sweetness level, depending on the variety and how late in the season they are picked. The amount of sugar you will want to add will depend on how sweet your apples are, and how sweet you would like your applesauce to be. It pairs well with pork chops for savory dishes, it's terrific with cottage cheese as a snack or light lunch, and it's great with vanilla ice cream or yogurt.
Ingredients
3 to 4

lbs

of apples

about 7 to 10 apples, depending on the size, cored, and quartered (use apples varieties that are good for cooking such as Granny Smith, Mcintosh, Fugi, Jonathan, Jonagold, or Golden Delicious)

2

Tbsp

lemon juice

3

inches

of cinnamon stick

2

Tbsp

dark brown sugar

1

Tbsp

white sugar

1

cup

of water

1/2

teaspoon

of salt
Instructions
Place the cored, and quartered apples into a large pot. Add the strips of lemon peel, the lemon juice, cinnamon stick, sugars, water and salt. Bring to a boil on high heat, then lower the temperature, cover the pot, and maintain a low simmer for 20-30 minutes, until the apples are completely tender and cooked through.

Once the apples are cooked through, remove the pot from the heat. Remove the cinnamon stick. Use a food mill to mash the cooked apples and remove the skins of the apples. If you want a chunkier applesauce, use a masher instead of a food mill.

Add more sugar to taste. If too sweet, add more lemon juice.

This applesauce is delicious either hot or chilled. Freezes well and will last at least a year in a cold freezer.
Notes
Youngsters aged 4 to 9 in our Cre*Ate Kids Garden Club made this recipe to learn about minimizing food waste. Slightly bruised, marked or deformed fruit can readily be used in recipes to enjoy its natural goodness. It's a valuable lesson that the kids easily understand.
Adapted from Simply Recipes