It's Never Too Early or Too Late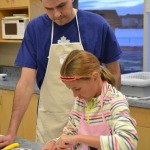 It's Never Too Late or Too Early
By Family Fun Calgary
Culinary awareness and skill has to begin somewhere and it's never too early or too late to learn.
Poppy Innovations wants to help adults, children and families learn more about the food they put into their bodies – how to choose it so it's both healthy and better for the environment, and how to prepare it. The organization has developed both a six-week Parent and Child Culinary Program, as well as one-time Cook With Your Kids classes to make eating well a family affair.
Instructed by dietitians, the Parent and Child program focuses on the fundamentals of cooking and food preparation. If teaching your kids to cook has ever felt like an intimidating task, the course offers a safe environment for children to learn under the supervision of parents while also educating families about nutrition and healthy food choices. The class is recommended for children ages nine and up.
Cook With Your Kids is a 90-minute class for adults and children ages six and up, to learn how to cook a tasty, healthy dish together, and then enjoy the fruits (and likely vegetables) of their labour.
Continue reading article at http://www.familyfuncalgary.com/poppy-innovations-edible-education-cooking-classes/