One potato, two potato, three potato more!
Potatoes tend to be a comfort food for most people. But are all potatoes alike? Are all potatoes created equal?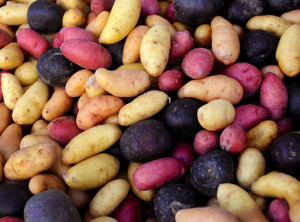 There are several varieties of potatoes the most common ones being:
Bakers potatoes (Russet)
White potatoes (New potato)
Red Skin potatoes
Yukon Gold (yellow potato)
Fingerling potatoes
Purple potatoes
Proper Storage of Potatoes
Cool well ventilated space – not the fridge. When put in the refrigerator the starch in the potato converts into sugar which causes a sweeter taste and can cause discolouration to occur when its cooked.
Dry
Dark
Green spots or sprouting on the potato is caused by a chemical called Solanine. It is caused by the potato being exposed to too much sunlight. If your potato has green on it cut away the green portions as it has a bitter taste and can cause illness if a large amount is eaten.
Starch Content Variation:
Russets – high starch
White – medium starch
Red – medium to low starch (hold their shape well)
Yukon gold – medium to low slightly waxy best for steaming or boiling
Cooking Methods
Baking
Frying/Deep Frying
Mashed
Boiling
Roasted
Steaming
Nutrients Found in Potatoes:
Good source of Vitamin C and Potassium
Provide B vitamins such as Thiamine, Niacin, Folate, and Riboflavin
When eaten with the skin on potatoes also provide dietary fibre
Check out this great chart from the Wisconsin Potato and Vegetable Growers Association:
Best Cooking Methods Based on Potato Variety