Poppy Innovations Invites Six-Year-Olds into the Kitchen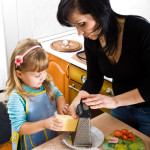 Starting this November, children six years and older are being invited to join Cook with your Kids at the Calgary Farmers Market.
"Children are never too young to get involved in helping in the kitchen," says Sharon McCormick, CEO of Poppy Innovations.
Until now, registration for the 1.5 hour hands-on cooking class has been limited to children nine-years-old and up. But lowering the age requirement will allow more children to be exposed to the benefits of eating healthy local ingredients earlier in their lives. And it's been proven that learning to use wholesome ingredients at a young age greatly increases the chance that those good habits will continue into adulthood.
Wondering what a six year old can do in the kitchen? "A lot!" says McCormick. "They can peel and wash, squeeze and grate vegetables and fruit, season meat and mix ingredients. And we will adjust activities in the class to match the age of the participants, so six-year-olds might be using paring knives instead of chef's knives."
Laura Nearing attended two Cook with your Kids classes with her son Brayden, "I think it's a great idea to include younger kids. I liked that the class is open and the kids are able to try new things, but their parents are right there to help them. I would not have thought my nine-year-old could chop, but he learned how to in the the class and now helps with dinner at home!"
Cook with your Kids is hosted at the Calgary Farmers Market once a month on Saturday's. Participants cook with wholesome local ingredients and learn a variety of skills like chopping, adding flavour and sauteing. To register or learn more for the next class on Nov. 15, visit www.poppyinnovations.ca.