Pumpkin Pancakes with Cinnamon Maple Topping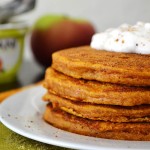 Pumpkin Pancakes with Cinnamon Maple Topping
2015-11-01 20:56:45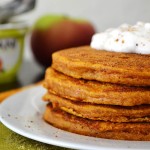 Serves 4
Pancakes for dinner, why not! A twist on the traditional Canadian dish with a creamy yogurt sauce and that bit of left pumpkin puree you just don't know what to do with.
Ingredients
2 cups flour
1 teaspoon cinnamon
3 tablespoons packed brown sugar
1/4 teaspoon ground ginger
1/4 teaspoon freshly grated nutmeg
1 teaspoon baking powder
1/2 tsp baking soda
1 tsp vanilla extract
1 egg
1 cup milk
⅔ cup pumpkin puree
¼ cup Greek yogurt
canola oil to use when cooking pancakes
Instructions
Preheat large skillet on the stove. Add a bit of canola oil to prevent pancakes from sticking.
In small bowl add flour, cinnamon, ginger, nutmeg and baking powder and baking soda. Set aside.
In another bowl, beat brown sugar and egg together.
To egg and sugar mixture, add milk, pumpkin puree, vanilla and yogurt. Continue to beat mixture.
Slowly add flour mixture and continue to beat till the flour is incorporated.
Spoon ⅓ cup of the batter onto the skillet.
Flip pancakes when bubbles start to form and pop. Cook for an additional 3 minutes.
Remove and serve!
Top with cinnamon maple yogurt by mixing together
1 1/2 cups Greek yogurt
1/3 cup maple syrup
1/2 tsp cinnamon
For a meal, serve with a warm spinach seasonal salad and side of bacon or sausage.
This recipe was developed using organic All Purpose Mix provided by Cuisine Soleil.
http://poppyinnovations.ca/