Quick Pickled Watermelon – Healthy Cooking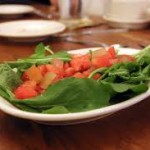 Summer brings so many seasonal delights it is hard to get enough while the season lasts. Thank goodness for canning and preserving so we can still enjoy products made when the fruit and vegetables are the ripest, giving us the greatest flavour, texture and nutrients.
Here is a Quick Pickled Watermelon that we shared on Global Calgary Weekend News earlier today.  You can make to accompany and brighten up any meal.
This type of quick pickling is meant to be enjoyed within a hour of making it.
1 tsp coriander seeds                                                   2 Tbsp fresh lime juice
1/4 cup White wine vinegar                                        2 tsp minced shallot
1 tsp honey                                                                     1/3 c olive oil
Kosher salt, freshly ground pepper                            5 cups chopped seedless watermelon
Start with the vinaigrette.  In a small saucepan over low heat, toast coriander until fragrant and begin to pop 2-3 minutes.  Crush slightly.
Combine coriander, vinegar, lime juice, shallot and honey in a small bowl.  Whisk in oil and season with salt and pepper.
Place watermelon in a large bowl; add vinaigrette and toss to coat.  Cover and chill, tossing occasionally for up to 1 hour to lightly pickle watermelon.
TIPS: Watermelon not available?  Try quick pickling cantaloupe and substitute cinnamon and red pepper flakes instead of coriander seeds.
Still not sure about trying pickling by yourself?  Try one of our upcoming Canning & Preserving classes, click here.