Recipe for Success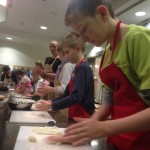 Bored with the same old dinner options? Play pass the potato and have the kids sort out supper for once. Thanks to Savvy Mom for their blog on Poppy Innovations' 'recipe for success' so school-age kids can learn how to prepare tasty and nutritious foods.
More than a cooking school, this community-minded business offers a variety of hands-on workshops that go far beyond teaching your kid to make their first grilled cheese. The mandate is to take participants from (garden) 'gate to plate,' teaching Calgarians how to grow, harvest and preserve produce.
To read more of their blog published April 16, 2015, click here Recipe for Success.