South Health Campus Grows Together!
We are thrilled to be building community at South Health Campus with their first gardening initiative.  Here's their newsletter article by April Matsuno, Wellness Kitchen Consultant to tell you more about it.
Have you noticed some gardening going on outside the Pillars Cafe recently? With support from our stellar Facilities Maintenance & Engineering department and Wellness Kitchen partner Poppy Innovations, various groups and patients at South Health Campus have collaborated on a Planter Garden Pilot Project! Six planters have been created with a variety of plants and flowers, and will be maintained in coordination with FM&E throughout the summer.
The purpose of the pilot is to foster employee and patient wellness at South Health Campus and also to inform a larger community garden project that we hope will involve more staff, patients and community members and businesses (like you!). Thank you to all the participants for their support and hard work getting us organized!
Come out to enjoy the gardens throughout the summer. Do you have a favourite?
Special thanks to our participants:
Eurest Dining Services
Facilities Maintenance & Engineering
Mental Health
South Health Campus YMCA
Volunteer Resources
Wellness Centre
Poppy Innovations Ltd.
Check out our progress!
Before: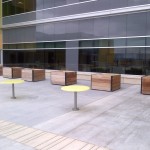 After: