Thai-Style Sitr-Fried Noodles with Chicken and Broccolini (Pad See Ew)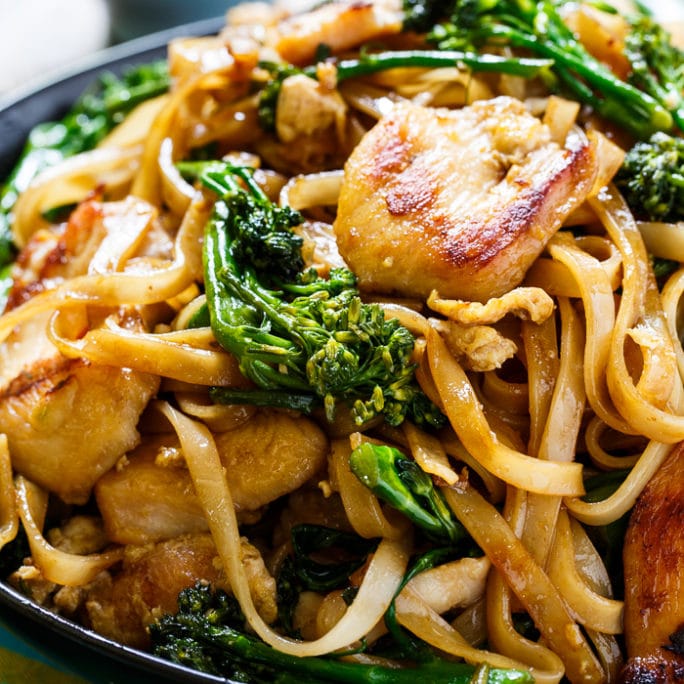 Thai-Style Stir-Fried Noodles with Chicken and Broccolini (Pad See Ew)
2018-07-13 15:49:38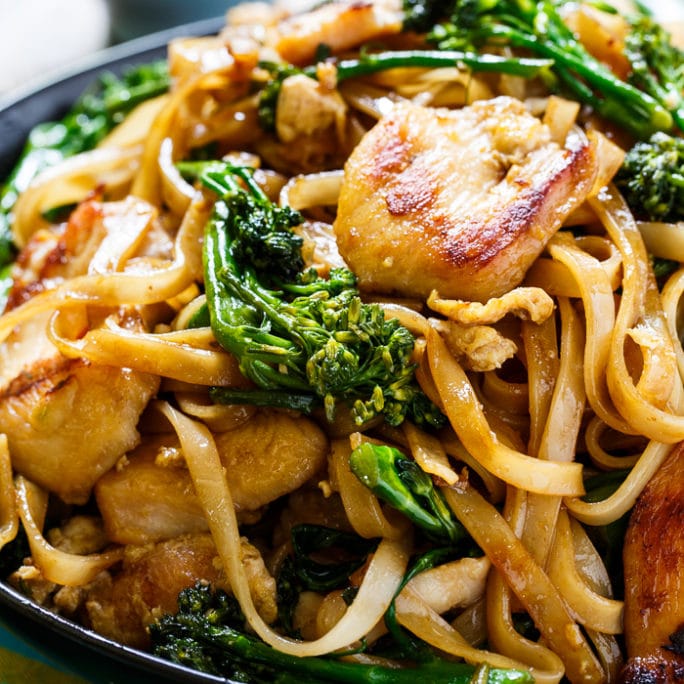 Serves 4
Kids in our Culinary Masters summer cooking camp were exploring kitchen science hands-on with this version of Thai Pad See Ew. The chewy, lightly charred rice noodles, with chicken, crisp broccoli, and moist egg, bound with a sweet and salty soy-based sauce was a big hit! Do you know why baking soda is used? Check out the notes to learn why.
Chile Vinegar
⅓ cup distilled white vinegar
1 serrano chile, stemmed and sliced into thin rings
Stir-Fry
2 (6 ounce) boneless, skinless chicken breasts, trimmed and cut against grain into 1/4 -inch-thick slices
1 teaspoon baking soda
8 ounces (¼ inch wide) rice noodles
¼ cup vegetable oil
¼ cup oyster sauce
2 tablespoons packed dark brown sugar
5 teaspoons tamari sauce (gluten-free)
1 tablespoon distilled white vinegar
1 teaspoon molasses
1 teaspoon fish sauce
3 garlic cloves, sliced thin
10 ounces broccolini, florets cut into 1-inch pieces, stalks cut on bias into ½-inch pieces (5 cups)
For the Chile Vinegar
Combine vinegar and serano in bowl. Let stand for at least 15 minutes.
For the Stir Fry
Combine chicken, 2 tablespoons water and baking soda in bowl. Let stand for 15 minutes. Rinse chicken under cold running water and drain well.
Bring 1 ½ quarts water to b inoil in kettle or saucepan,. PLace noodles in large bowl. Pour boiling water over noodles/ Stir, then soak until noodles are almost tender, about 8 minutes. stirring well halfway through soaking. Drain noodles, then rinse under cold running water. Darin again. transfer to dry bowl, add 2 teaspoons oil, and toss to coat.
Whisk oyster sauce, sugar, tamari sauce, vinegar, molasses, and fish sauce together in bowl.
Heat 2 teaspoons oil and garlic in 12-inch nonstick skillet over high heat, stirring occasionally, until garlic is deep golden brown, 1 to 2 minutes. Add chicken and 2 tablespoons sauce mixture, toss to coat, and spread chicken into even layer. Cook, without stirring, until chicken begins to brown, 60 to 90 seconds. Using tongs, flip chicken and cook, without stirring, until second side begins to brown 60 to 90 seconds. Push chicken to one side of skillet. Add eggs to clearing. Using rubber spatula, stir eggs gently and cook until set but still wet, 30 to 60 seconds. stir eggs and chicken and continue to cook breaking up large pieces of egg, until eggs are fully cooked, 30 to 60 seconds. Transfer chicken mixture to bowl.
Heat 2 teaspoons of oil in now-empty Skillet until smoking. Add broccolini and 2 tablespoons sauce and toss to coat. Cover skillet and cook 2 minutes, stirring once halfway through cooking/ Remove lid and continue to cook until broccolini is crisp and very brown in spots, 2-3 minutes, stirring once halfway through cooking. Transfer broccolini to bowl with chicken mixture.
Heat 2 teaspoons of oil in now-empty Skillet until smoking. Add half of noodles and 2 tablespoons sauce to coat. Cook until noodles are starting to brown in spots, about 2 minutes, stirring halfway through the cooking. Transfer noodles to bowl with chicken mixture. Repeat with remaining 2 teaspoons oil, remaining noodles. and remaining sauce. When second batch of noodles is cooked, add contents of bowl back to skillet and toss to combine. cook without stirring until everything is warmed through, 60 to 90 seconds. Transfer to platter and serve immediately, passing chile vinegar separately.
Notes
Boneless skinless chicken lacks skin and bones to protect the delicate meat from over-cooking resulting in a dry, fibrous texture. To increase the margin of error while cooking boneless, skinless chicken, a baking soda and water solution is employed. The solution raises the meat's pH preventing the meat proteins from bonding together as tightly as they would otherwise allowing us to cook the chicken thoroughly without fear of dry, chewy chicken. We wash the solution so the chicken/stir-fry doesn't have a residual baking soda flavor.
Adapted from Cook's Illustrated Special Collector's Edition "Cook it Right 2016"
Adapted from Cook's Illustrated Special Collector's Edition "Cook it Right 2016"
http://poppyinnovations.ca/