Our Top 3 Comfort Foods
As the weather turns from cool to cold we want to share with you our Top 3 Comfort Foods. Comfort foods are those indulgent dishes that warm our hearts and remind us of home. But there are no boundaries to what is a comfort food. Your go-to comfort foods are likely a reflection of where you grew up and what lifted your spirits the most. So tell us, is your go-to comfort food hearty, or sweet or hitting the top of the spiciness scale?
1. Bison Tagine is a rich stew with fruit and vegetables that are slow cooked. Serve with couscous or brown rice for a hearty meal packed with warm flavours.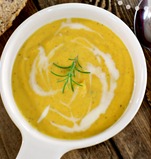 2. Best Squash Soup is like a warm hug on those chilly nights. It will be a new family favourite in no time.
3. Apple Compote with Buckwheat Flake Crumble is that traditional family recipe with a modern twist. Apples are readily available year round so this recipe is super easy and delicious any time of year! The vanilla sauce is a delicious cream-like accompaniment.
There is no right or wrong with comfort foods, these are the most popular ones from our Recipe Box. Take a look, maybe you'll find a new recipe that gives you comfort!
Be sure to check back often as we regularly post new recipes from our cooking classes.